Product Description
The easy way to light-weight solar cooking
Solar cookers using large parabolic reflectors have been on the market for many years. They are efficient and versatile, but not really portable or easy to set up. There must be a way to make solar cookers more light-weight, mobile, easier to assemble and even more efficient.
Yes, there is a way – the Lightoven III – a light-weight, powerful solar cooker.
The reflector's geometry has been optimized for unattended solar cooking: the sun's rays concentrate at the focal point which is located far to the back of the reflector and works like a funnel. Once adjusted to the sun, the cooker does not require a lot of readjusting. Food will  not burn in the Lightoven. The Lightoven III is well suited for travelling. Folded to the size of a briefcase, it can easily be carried anywhere. It does not weigh more than a full one-liter flask.
The Lightoven III can be used both with dark enamel pots and pots made of hard-anodized aluminum.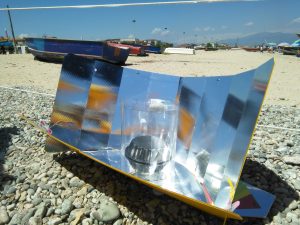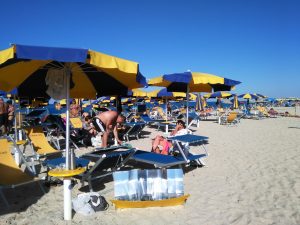 Price: £128.00
The advantages of the Lightoven III:
optimally suited for unsupervised cooking
adjustable to any given position of the sun
accommodates two pots at a time (up to a diameter of 22 cm and a height of 25 cm)
weighs only 995 g (without pots)
The Lightoven III package contains:
two-piece solar reflector with press studs
three-piece greenhouse made of impact resistant and heat resistant polycarbonate
detailed operating instructions, two clips and one packing strap
Review. 
I used the Lightoven III many t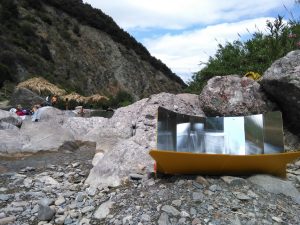 imes last summer and will use it again. The main appeal is the portability. I took it on a ten day beach holiday to Italy where I used it most days at the beach. It fitted easily in my hand luggage bag. Due to its professional appearance i didn't feel awkward setting it put out the beach, it certainly attracted attention and was a great way to start a conversation.


I mainly cooked local wholeg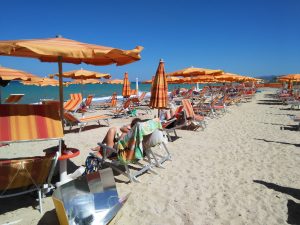 rain risotto. I would chop and sauté vegetables, peppers etc in olive oil and seasoning. When sizzled I'd add rice, salt and water. Thats it. Steam venting and appetising smells would tell me it was rehydrated and done. It could be done in an hour, in that heat (slower in the mountains) with no burning ('the curse of the risotto cook'). In the UK it takes a bit longer. Looking at the beach food on offer during the day, this probably saved me a fair few junk food Euros, I reckoned over 80 euro if I'd bought something every day i used it. I also enjoy cooking and prepping local foodstuffs, so its a delight to do this on a beach. BBQ and fires of any kind are forbidden on all Italian beaches so I was blessed to be able to cook at all.
I used it in the UK too which is more demanding and it performs surprisingly well Spring to Autumn given a sunny day. I'm looking forward to using it over the next season – its certainly holding up to the abuse I've been giving it since receiving it in August. If I use it to offset midday meals i might otherwise buy, it might break even in the next year.

SADLY, the maker has stopped production. Another one (commercial solar cooker maker) bites the dust. – we can make great solar cookers but only in small quantities which ensure prices remain too high, and for a market that doesn't really exist….