Using the sun to cook is simple, when you know how. When sunlight hits a dark surface it will make it feel hot to touch. If the surface is in a 'greenhouse' it will be hotter. A solar cooker harvests sunlight using reflectors to shine maximum power onto a dark surface containing food. In combination with super-insulated glass under direct sun we can easily cook, roast or grill food. See: HOW SOLAR COOKERS WORK. There are several sorts of solar cooker.  See: TYPES OF SOLAR COOKER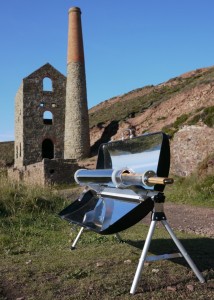 The materials and techniques used for solar cooking are modern. For recreation, leisure and convenience it is little known in the UK and rarely seen in Europe – despite excellent conditions. We feel this is due to lack of knowledge of this low impact, energy-saving and clean cooking method.  With very recent technological developments extending possibilities into the north of Europe our natural desire for low impact, green living can become reality.
Its fun too – a great educational tool for basic physics and understanding the 'greenhouse effect' – eat as you learn!.
SLiCK's mission is to bring solar cooking into common use here in the UK, displacing smoky barbecues for example, and producing hot food where fires aren't possible with the cleanest cooking method on earth. But do we have enough sunlight here?  See: HOURS OF SUNLIGHT IN THE UK 
Our research has shown that family scale solar cooking is viable in the UK's climate, it could even save up to 5% off a household's cooking bill if used regularly (in suitable conditions). In promoting this we are challenging a commonly held perception that the UK has insufficient sunshine for solar cooking.
Join us as we develop further cutting edge methods and technology for solar thermal cooking and food processing in the UK, we welcome all contributions wherever you are. Be an 'early adopter' of this technology by using our flagship product – the SLiCK SM70 – or any other solar cooking product to cook using the sun in your location, we would love to hear from you.
The SLiCK team
PS – There is a lot of information about solar cooking on the web.  Try our Resources page, and/or: ONLINE SOURCES OF INFORMATION ABOUT SOLAR AND INTEGRATED COOKING