I love to demonstrate solar cookers.  I like to see those faces – puzzlement, disbelief, and delight – these are the most usual responses.  Most people in the UK have not yet come across a solar cooker, so they are inquisitive.  When they work out what it is, they are usually sceptical – how could there be enough power in the British sun to cook anything?  Finally, a mouthful of delicious solar cooked food converts them.  They are now believers.
But there is a problem.  Variable weather is the curse of UK solar cooks.  If I decide on a date and invite people to come and see solar cookers in action, I am taking a risk.  Even when the weather forecast predicts sunshine, the Jet Stream can change that with an effortless wag of its giant tail.  Cancelling events at the last minute is not good PR, and disappointing all round.  I suppose I could persevere and show the cookers anyway, but that would be like a car salesman telling a prospective customer how well this car would go if only there were some petrol in the tank.  No demonstration, no sale, and rightly so.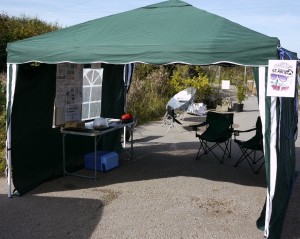 Last weekend, a solution was at hand.  Our local Transition Group ran its annual Green Doors event – an invitation to look round the properties of local people who had greened their lifestyle in some way.  On display were heat pumps, PV panels, external wall insulation, electric cars, and so on.  We decided to piggy-back our Solar Day cooking display onto this event, and arranged to set up at a local Permaculture project.  This meant that if the weather turned ugly, we could sneak away and nobody would have had a wasted journey.  They would get to see the Permaculture project, whatever the weather.
It turned out to be an excellent day for solar cooking.  I had no idea how many would attend, so I wanted to cook something quick, cheap, and popular.  In Cornwall, that means scones.  My Cookup Inox parabolic was available, as were an SM70 and a CooKit.  I chose to contrast the brute power of the Inox with the gentle slow cooking potential of the CooKit by heating some water in each.  This left the SM70 to tackle the scones.  In case there were hordes of visitors, I cooked small squarish scones.  I guess a copy writer would call them 'fun sized'.  They took about 25 minutes for each batch, in full sun:
Enough for a couple of batches: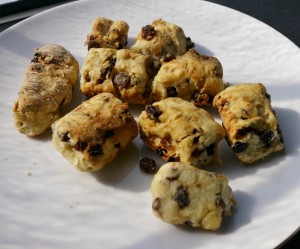 225g self-raising flour
2.5g of salt
5g baking powder
50g margarine or butter
150ml milk
Optional: You can add 50g or more of dried fruit before mixing
Bung everything except the milk into a mixing bowl and mix with your fingers until you have a crumb structure.  Add the milk slowly and mix until you have a dryish dough.  Flatten the dough on a floured flat surface until it is about 2cm thick.  Cut into the shapes you want.  Line the bottom of the SM70 food tray with aluminium foil, lightly greased with butter or margarine.  Bung the shapes, not quite touching each other, into the food tray for 20 minutes in full sun, or longer if the sun is intermittent.  They will have reached 100C and you will see the SM70 venting a little steam.  Check every 5 minutes or so thereafter until done to your requirements.  They will harden quite rapidly after about 25 minutes, so keep an eye on them.  Enjoy.