All life on earth relies on sunlight – its the worlds No. 1 free lunch..…totally renewable and no pollution, it competes with fossil fuels on many levels. Used for cooking it must be concentrated. At SLiCK were fully aware of the limitations of solar cooking and have selected solar cookers that work in our UK climate, throughout the year.
Our SLiCK SM70 solar cooker has reflectors which focus on a glass, insulated cook tube. This set up, adequately focussed can give some serious temperatures, perfect for roasting and grilling.
Many people comment on the volume of the cook tube, due to its long, narrow diameter. 'What can you cook in there?' they say. Here at SLiCK we're just beginning to explore the gourmet possibilities of this unique cooking device. Here's some suggestions to get you started with a feel for cooking sunshine style. Armed with weather forecasts and shades, we've found these recipes to be a good fit here in the UK.
ICARUS CHICKEN
Try these crumbed nuggets of free range bird, perfectly sized for the cook tray. Make your own crumb, add parmesan, salt and chilli flakes (if you dare!). Drop the chicken pieces in flour, egg then coat in the crumb. Place in a heated tray and check, from time to time to stop it 'flying into the sun'.
NO BURNS BROWN RICE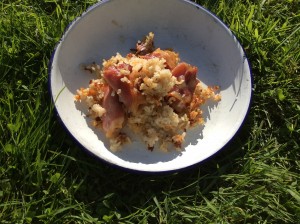 Brown rice is tasty, but hassle. The pan needs boiling on a hob for ages, sometimes it burns. The SLiCK SM70 makes perfect brown rice.
Wait for 200ml water in the tray to boil (see steam venting), add 100g washed wholemeal rice. In good sun it can take 20-30mins. Turn the SLiCK SM70 away from the sun and leave to steam for 10mins, or to taste. Some rice may stick to the base (if its starchy). If you leave this in and drop in some rolled bacon rashers for further cooking, then you get a crispy rice stir fry. Very popular (in fact rolled up rashers are a winner-dinner anytime).
FALAFEL AL HORNO
Vegetarians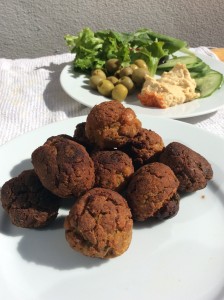 will like this healthy classic. Keep the mix a bit moister. Baked falafel needs a light coating of oil to work well. Make them any shape you like as long as it fits the tube and fits in a pitta bread when browned and ready. Serve with the usual falafel-hut stuff. I use hummus made from solar cooker chickpeas. Delicious.
SUN STAB KEBAB
Kebabs are a perfect 'long food' fit, anything works! add pepper pieces, lamb chunks, tomatoes, onions to a regular skewer. Season and lay in the cook tube. Turn once or twice. Serve with chillis, garlic sauce. A 'heavenly' take away indeed. You can roast peppers and tomatoes in a SLiCK SM70 too.
Lay your kebab on solar cooked brown rice…mmmmmm +1000
SPAGHETTI EASY
Long spaghetti works well, but other shapes work too. Lay out in salted water to just cover the pasta, not too much. It steams nicely. Remove when al dente, 20-30 mins. You can drain and add sauce for the last 5-10 mins but don't leave in too long, or it gets too soft.
YESTERDAY TORTILLA
Easy one this! Grab the leftovers from the fridge and lay out in the cook tray – dont overload, keep to the profile. Mix 2/3 eggs with some salt, milk, oil & grated cheese. Pour over the leftovers. Wait for some great aromas. crisps up well. Guaranteed hangover cure.
And this is just the start!…….find your own solar food that fits in the SLiCK SM70. Care for the planet and add to your cuisine! This is the first in series and we welcome your contributions.
Caution: You would never put a sealed container in a microwave, likewise never create a seal by forcing the cook tray into the glass tube. Always allow space above the food, for steam to move, and don't slop oil around. Keep the tray body clean with kitchen roll. Always be careful…you're dealing with glass after all and dont burn yourself, use an oven glove.
(A last one: Wrap potato croquettes in bacon….sizzle to completion. Cook fresh, chopped potatoes in the remaining lard……dieters look away now!)
Author – Stewart MacLachlan
The SLiCK Team