Fireless Cookers use heat retention to cook. Get your food hot elsewhere then place your pot in the fireless cooker. It will carry on cooking, staying hot for hours afterwards. At SLiCK we recommend fireless cookers as a perfect sister for a solar cooker. Get your food hot and steaming in the sun, place in a fireless cooker and get on with your day. It works when the sun goes in and food will be ready for tea-time. Cook a meal using NO FUEL WHATSOEVER.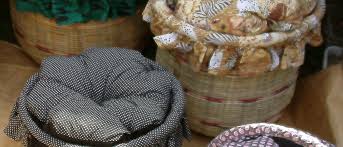 This type of cooker is useful round the house, keeping food hot, or even drinks cold due to thick insulation. Different designs exist: Traditional 'hayboxes' for cooking are well known and the Wonderbag is a popular design, along with vacuum insulated pots. In the third world people make their own to save money and fuel. You can do it in the UK too.
We feel its important for a fireless cooker to look nice in its surroundings. House proud people won't put up with ugly stuff in their living space. Once again we're holding the worlds Fireless Cooker Beauty Contest and invite all to compete.
You'd be welcome but if you can't attend in person entries as picture files are invited. We'll print, laminate and exhibit them at the 'Beauty Parade', held on the Sunday at midday. A write up is also required, telling the story of your cooker and how nicely it works. With tongue firmly in cheek international Fame beckons for the 2017 World Beauty Queen! Impartial Judges will be drawn from festival attendees. Help raise the profile of this super green cooking technology. Entries must arrive by 1st August to the email on our Contact Us page
Author Stewart MacLachlan SLiCK