Back in August we took our ad-hoc roadshow to the Green Gathering Festival in Wales. For four days we demo'd all things solar cooking. Because solar cookers cannot cook when the sun goes in, we also demonstrated rocket cook-stoves, and fireless cookers. In combination, these three technologies will provide hot food from morning to late evening, at very low energy cost. This low-carbon approach is known as 'integrated cooking.'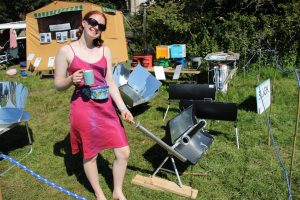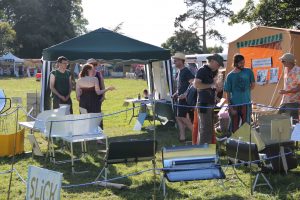 Most people understand fire, so wood cookstoves are easily understood, but fireless cookers?, not so much. A fireless cooker is merely a very well insulated container allowing food to keep cooking after the heat source is removed. To raise awareness of this simple technology, we held a tongue-in-cheek 'World Beauty Contest' for fireless cookers, since only nice looking objects will last in your home. Visitors to our display were asked to vote for their favourite fireless cooker.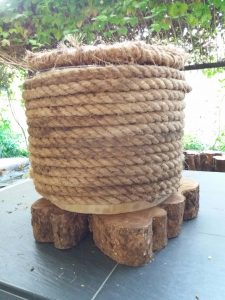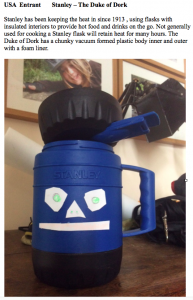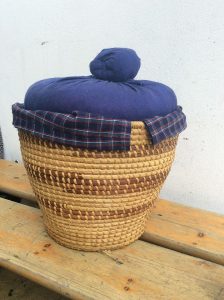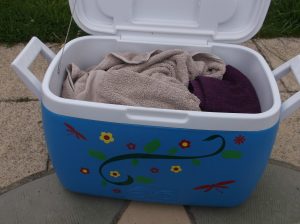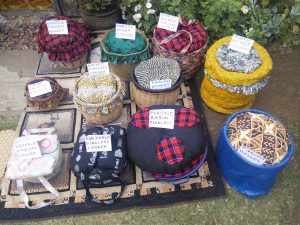 The winner, Faustine Wama, of Kenya, is also known as 'Mama Solar' in recognition of her tireless efforts to promote integrated cooking in east Africa. We thought we could best support her work by providing her with some very efficient, award winning charcoal stoves (known as 'Jikos' all over East Africa). These stoves burn charcoal about 70% more efficiently than the ubiquitous Jiko stoves, with 58% smoke reduction. Called the Ecozoom Jet, they have won awards, especially for Womens empowerment in the developing world.
Faustine was presented with three Zoom Jet stoves by on behalf of SLiCK by EcoZoom Kenya. Here you see her with a range of attractive fireless cookers, some solar cookers, and one of the Zoom Jet Jikos.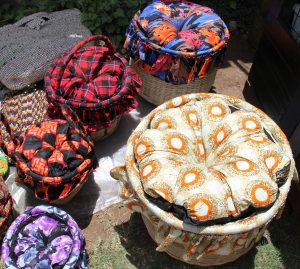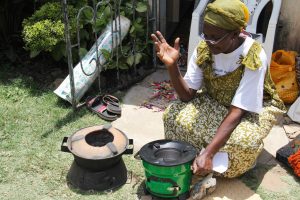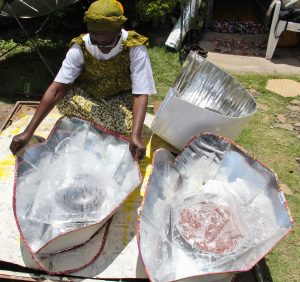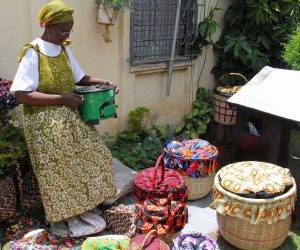 They will allow her to demonstrate a very efficient combination of cooking technologies solar cookers for when the sun's out, charcoal stoves when it's not, and fireless cookers for saving charcoal and keeping the food warm, well into the evening, if required. These cooking options can save money, reduce pollution and slow the crazy deforestation rates in the area.
She will be using them in her integrated cooking demonstrations and for use in a supported school. These will reduce the fuel costs for cooking which are a burden to the school, which doesn't have much of anything. We will keep you posted on'Mama Solars' demonstrations in East Africa when we can. Thanks to all who contributed to our effort! You can also donate a jet stove in the Nairobi slums -get in touch at EcoZoom UK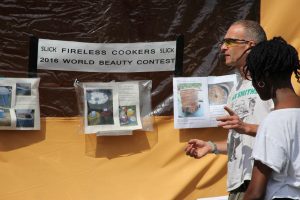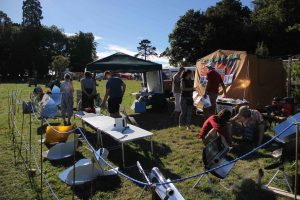 Authors: Dave Oxford/Stewart MacLachlan  – SLiCK UK
Special thanks to: Alex Key, Malaysia; Zoe Williams UK; Lee Wharton UK; Stanley, USA ;and Nabukelela, RSA (for 'Tea Cosy Sikeleli iAfrica'), who all gained a commendation for their entries – great stuff guys
Seriously Low impact Cooking