Sell EcoZoom Products at your outlet.
We invite your to retail out popular rocket cook-stoves at your independent store, market stand or web-shop. Customers love our stoves when they see them. With a great back story they appeal across all demographic groups for real fire gourmet cooking, fuel saving and environmental reasons.
The minimu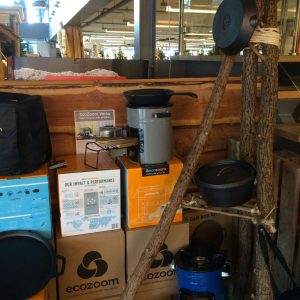 m order quantity for the first order is only £500.00 in wholesale prices (which will be confirmed). For the second order there is no minimum order quantity.
We keep the shipping costs for dealers within reasonable limits, and are happy to facilitate local pick up within East London.
If interested, we can supply your customers directly from our London warehouse (drop-shipping). Please contact us for further information on shipping rates and terms and conditions.
We provide you with all retail material and pictures you might need.
Contact Stewart at: ecozoom.uk@btinternet.com to get started.
OIN OUR RESELLERS PROGRAMME – SELL ECOZOOM STOVES
We have an expanding list of resellers, who retail to customers from their outlet, or sell direct at events and market stalls. Get in touch to join our resellers programme.
EcoZoom Versa cookstoves and accessories carry many positive features and get an excellent response where they're displayed and used – on a campsite or in a shop.
Our customers enjoy real fire cooking, gathering abundant free fuel from the campsite or garden floor. Many enjoy the gourmet aspect of having serious power to prepare food -taste is effected by the wood type used to cook.
People also warm to the environmental issues – our stoves reduce fuel use and are slowing deforestation in East Africa and elsewhere.
Ecozooms wood, charcoal and biomass cookstoves have a great future in the UK. You can benefit from this by becoming an EcoZoom UK reseller. We offer great rates for multiple purchases and can offer sales literature to support your business. The resellers programme is ideal for small to medium scale, allowing you to get started with reasonable amounts of stock on hand.
Get in touch to discuss your proposal at ecozoom.uk@btinternet.com