Welsh Mountain Biking with the EcoZoom Versa Rocket Stove
Back in the Autumn our EcoZoom UK Distributor recently took his Ecozoom Versa rocket stove on a mountain bike trip to the damp trails of Wales, spending a few days riding with friends and cooking up warm replenishing meals. If you live in the UK or Europe and are interested in ordering an EcoZoom stove please contact Stewart at ecozoom.uk@btinternet.com.

Wales is the spiritual home of mountain biking in the UK, it has world class, purpose built trails. It's always a pleasure to get out into those hills for some fresh air and calorie crunching bike action. The trails are remote and it's possible to park up a few camper vans close by and enjoy some local wilderness at its best.
Welsh weather is a unique and heady mix of sea and mountain influence. Facing the Irish sea, rain features most days and is often torrential. Strong winds can clear the clouds giving the sun a much appreciated cameo part. Autumn is a great time to experience this fresh climate but you have to come prepared.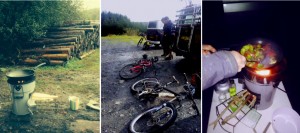 With this in mind we headed out last weekend into a doubtful weather forecast and I took along my Ecozoom Versa rocket stove to give it a shot amid the gloomy forecast. Mountain biking is a high energy sport and excessive calories are needed to keep you going and to keep warm. This translates into a morning fry up and gallons of tea in preparation for our ride.
We set up the Zoom Stove on a log and got a fire going. I'd taken a bit of dry kindling to start the cookstove, but quickly moved on to wind dried sticks out of the damp forest. Bingo! A steady hot blaze got us right up into the mood and a day of swooshing singletrack ensued, mightily fueled by an EcoZoom rocket stove.
That evening we were able to pull into a lesser known beach front spot. A stunning place under a full moon but with strong winds due to the exposure. A camp fire was out of the question as the sparks would have gone everywhere, and would have kept us looking for new wood all night.
The Versa on the other hand was in its element. Set up on a camp table between a couple of vans acting as wind breaks, the controlled fire (from bleached driftwood) kept us cooking and warm right through the evening.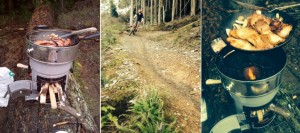 With gas camping stoves or spirit burners outdoor cuisine is usually a quick fuel saving boil up of some carbs (eg packet rice), followed by a cup of tea, then bed (to keep warm).
With the Ecozoom Versa cooking style you can be bit more luxurious……. fuel never runs out. You can spend a while in food preparation. We made a delicious green Thai curry using stir fried vegetarian ingredients, and simmered in coconut milk to perfection. Cooking for hours, it gives time for a very leisurely and well deserved beer.
Afterwards I even managed to get a hot water bottle into my sleeping bag…5 star luxury! Thanks to the little packet of heat that is the Versa rocket stove, a real fire can be at hand.
After another EcoZoom breakfast and full day of riding on the Nant Yr Arian trail, I was just about cooked. Fully fed, fueled and fatigued, Wales had worked its mountain bike magic once again.
I'm really happy to commend the Ecozoom Versa rocket stove for its morale boosting support to a great weekend.  As a base camp warmer in a damp, cold place, it's a winner all the way!
email EcoZoom UK at ecozoom.uk@btinternet.com if you have any great stories of using your Zoom stove out in the wilds.