Living in London, cooking on a barbecue often means using a disposable barbecue that lacks any decent power or ease of use. The EcoZoom rocket stove can easily cook all your favorite recipes using a simple griddle pan.
I live in the UK and regularly use EcoZoom rocket stoves for outside cooking. A question I often get asked by friends is 'can you barbecue with it?' Now, a barbecue is wonderful thing but it isn't always practical. Here in the UK people often use disposable barbecues, which are expensive, hard to light and have terrible heat output – under-cooking food is never a good idea. Not to mention, one-and-done cooking options aren't as sustainable as an EcoZoom Versa, which is built to last for up to 13,000 hours of cooking using small amounts of fuel to generate as much heat as you will likely need (up to 23,000 BTUs).
While the EcoZoom product line doesn't currently include a barbeque grill attachment, you can grill meat and vegetables just as well – this is how I do it with a griddle pan.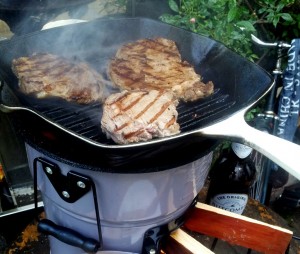 Fire up your EcoZoom Versa rocket stove with wood or charcoal and oil up the griddle pan. When the stove is putting out a nice amount of steady heat place the griddle on the cast iron top. The trick is to move the griddle around on the hob a bit, don't just leave it in one spot, this spreads the heat more evenly around it. If you are cooking with a pot or pan that fits the included pot skirt that comes with each stove, you can place it around the bottom of your pot or pan to ensure that heat is transferred evenly across the bottom and lower sides of the pot/pan.
When you can smell the heated oil in the griddle it is time to start cooking! Vegetables (eg peppers) need more oil, but meats bring their own. Lift the food up from time to time to ensure your food doesn't stick too much to the griddle. While cooking, if too much oil comes from the meat just pour it off gently.  Now you do the rest, cook it just how you like it! Your Ecozoom Versa will do the heavy lifting by providing ample of amounts of heat to cook with until all the food is ready to your liking. As with all things, take care and use a glove to hold the griddle handle, it will get very hot.
EcoZoom rocket stoves are capable of taking on just about any cooking task. Whether it is a temperature sensitive recipe, or multi-hour simmer, EcoZoom stoves are up to the task. Here in the UK, it is a great barbeque alternative and helps avoid using disposable barbeques that leave much to be desired in terms of an outdoor cooking option.
About the Author: Stewart MacLachlan lives in London and is an avid EcoZoom'er. He loves to cook on his EcoZoom Versa and is well versed in a variety of different recipes.