A British Beach Trip With an EcoZoom Versa Rocket Stove
In crisp, clear autumn weather we were able to get out of town and down to the southern coast of England for a few days of country walks and beach cooking on an Ecozoom Versa.
Our destination was a friend's seaside caravan near the Dungeness lighthouse – facing Dover's white cliffs across the bay. We'd suffered our worst storm in years and some areas were still counting the cost with fallen trees and debris in many places. This was the calm after the storm. The weather was perfect for getting out and about. We headed down the board-walk at the beach and set up for breakfast. Our backdrop was the English Channel and the shingle beach which was covered in starfish and sea life thrown up by the storm.
Apart from the beach front scenery and a light quality popular with artists, Dungeness is famous for its nuclear power station. It's kept safe from storm's by an artificial shingle bank maintained by tipper trucks. Albert Einstein called nuclear power an 'expensive and dangerous way to boil water', fortunately for us we didn't need any power and could fire up our Ecozoom Versa using just driftwood. Cheaply and safely we got the espresso coffee cooked and set up the breakfast bonanza.
The locals don't touch the shellfish in these parts, but the fresh fish is to die for. We bought freshly caught sea bass fillets from a fishermen and combined them with eggs and bread all cooked on the beach under a solid blue sky. Outdoor cooking at its finest!
On our way back to the sea side caravan park we stopped to look at an interesting piece of low-tech World War II archaeology – 'the listening ear'. The concrete ear was designed to tune in the sound of incoming hostile aircraft, of which only two were built before they were superseded by radar.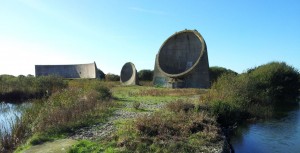 EcoZoom rocket stoves are a robust, low-tech solution to some of the world's most pressing problems. Similar to the listening ear, we hope our rocket stove technology supersedes the primitive cooking methods of over 3 billion people in the world.
They also have direct usability here in Britain in all kinds of ways. A caravan by the sea is a home from home for many people in the UK during the warmer months. Most caravans use expensive bottled gas for cooking, and this restricts the options for recipes. Cooking inside a smaller space will create odours and can be uncomfortable on hot days.
The low key 'footprint' of the  ecological Versa rocket stove is perfectly suited to a pleasant caravan park environment. The contained combustion chamber sends out the right message – that this is a controlled scaled down fire, unlike a campfire which can be hard to control in wind.
Our cooking on the caravan park was fun and allowed for great times outside breathing fresh sea air. It was a couple of days well spent with some great memories, food, and fantastic opportunities for outside cooking – thanks to the Zoom Versa Rocket Stove.