The Isle of Skye is the jewel in Scotlands crown with some world class mountain backdrops.
With this in mind we packed an EcoZoom Dura to support an attempt on the infamous Skye Ridge Traverse.
This is a two day, sustained high level scramble with much climbing, and lightweight mountain equipment is required. Lets be clear, the ridge is no place for a wood burner – there's no wood or water up there for a start. It was down at the base camp harbour where our EcoZoom Dura came in really useful.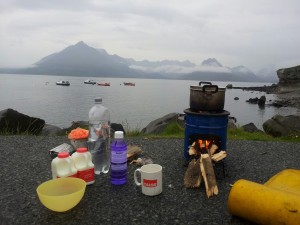 Wood is often in short supply on the treeless Scottish peat bog, but this no problem for a zoom stove as you don't need much. The Dura was used for hours and rocked out some great cooked breakfasts, including porridge. It was essential to pack in the carbs as calories would be limited on the climb. Buckets of tea were happily imbibed by all comers and as usual the stove worked as a focus and centre of attention – burning through all the pesky paper wrappers to avoid leaving pointless litter.
But the stove came into its own in a particularly Scottish way and any summer visitor to these parts knows about the  Highland Midge
The Scottish Midge casts a long shadow over the Scottish tourist industry. Known as the 'crofters revenge' since  crofters were cleared from the land for sheep leaving it un-drained and boggy. Perfect breeding ground for insects and the midges come in biting swarms that blacken the sky. They are attracted to the CO2 in our breath, so there's no escape
EcoZoom cookstoves burn dry wood very efficiently with up to 70% less smoke, since it gets mixed with the flame and re-burnt due to the rocket effect. This gives a 60% reduction in the fuel used to cook food.
But with a little clever 'reverse-engineering' (i.e. damp wood) it was possible to smoke them little critters out and chase them off down the glen. It worked a treat when required and allowed for a bit more peace and reflection prior to the challenges ahead. And what a view!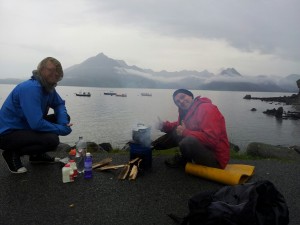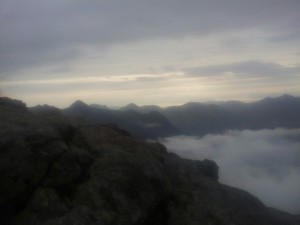 Two days later we emerged from the mountains having had great weather and the best experience, grateful for all the support we had to complete this lofty Scottish classic and in need of some celebratory local malt.
It was great to get the opportunity to test the stove out as a base camp facility here and I can fully recommend an EcoZoom rocket stove for use in the Highlands – for both food and also to keep troublesome midges at bay without the hassle of a regular campfire.
Ecozoom Dura rocket cookstoves are simple, durable and burn wood for fuel, they are soon to be available in the UK.
How to traverse the Skye Ridge
Photos and story by: Stewart MacLachlan, EcoZoom UK