ECOZOOM HIGH EFFICIENCY WOOD, BIOMASS OR CHARCOAL ROCKET COOKSTOVES  
DEPLOYED AT ANTIFRACKING PROTEST SITES
April  – Anti Fracking : This  is  about  long  term  sustainability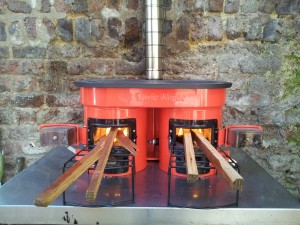 Anti-Fracking protesters at the Daneshill (Nottingham) and Upton (Chester) Anti-Fracking sites have deployed clean burning and efficient ECOZOOM UK rocket  cookstoves for fossil fuel free cooking on site and to keep gas bottles out. John Oulton of Chester Green Party donated an Ecozoom 'La Mera Mera' cookstove (pictured) to the Upton site, recently covered by the BBC. John said that it made no sense to be making tea for visitors and journalists using bottled methane gas at an anti-fracking protest site. Ease of use of the ECOZOOM UK high efficiency wood, charcoal and biomass cookstoves, and their low emissions have made them a clear choice for site welfare. The cookstoves quickly became the focus for the sites with visitors able to learn about alternatives to gas use for cooking.
To avoid using fossil fuels and un-renewable power sources we must show alternative options. Ecozoom rocket stoves provide options and lead the way for efficient use of renewable fuels. They are used across the world where fuel sources are limited and can easily cope with fuel supply disruptions to keep you cooking.
ECOZOOM UK COOKSTOVES ARE CONFRONTING BOTTLED METHANE GAS USE  
–  FOR SPORT, RECREATION, PATIO COOKING & CAMPING.
http://www.daneshill.org  DANESHILL
https://www.facebook.com/groups/1394777480782876/  FRACK  FREE UPTON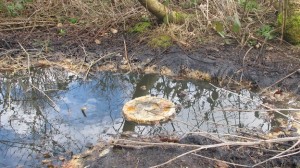 DEPLETED ORPHAN FRACKING GAS WELL WARNING
 http://www.bbc.co.uk/news/science-environment-26692050