We recently contacted Simon Carter of the Scout Association to give a verdict on an EcoZoom Versa. Simon was keen to give it a go and this is his review, hot off the press!
The EcoZoom Versa
I am a great fan of wood fuelled stoves in camp. I was first introduced to solid fuel stoves during an expedition to South Africa nearly ten years ago.I was impressed with the capacity of a storm kettle to boil hot water using nothing but a few twigs gathered from the high veldt. Using the storm kettle was a joy in the cold South African mornings. I was therefore really pleased to be asked test out the Eco zoom Versa stove.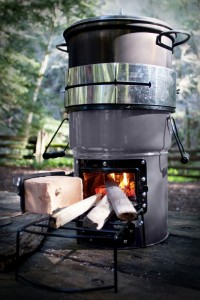 If the design of the stove is right and the combustion chamber and damping system are well thought out then solid fuel stoves use little fuel, can burn almost anything and give great heat output. After a couple of weekend tests I can say the Eco zoom Versa stove delivers excellent fuel efficiency and high heat output. It's a cracker. I was going to say a little cracker but it's not actually that small or light which actually is a good thing for static camp work.
 The stove is really solid and well built. The manufacturers say it will last for years and I believe them. The stove sits on a very broad base and has a low centre of gravity so there is little chance of it falling over while in use. The unit also comes with a very useful windshield that the manufacturers call a pot skirt so that as much heat as possible can be directed onto the saucepan being heated up. I used the stove to heat water for numerous cups of tea and coffee as I remodelled the back garden.
On the three occasions I used the stove there was little smoke and no need to constantly stand over the stove to keep it working at the optimum temperature. The stove lit quickly and easily with the minimum of fuss and proceeded to burn through the small and medium sized pieces of wood I fed in from the top and side.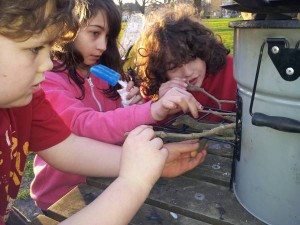 The unit comes with a clever stand that sits level with the fire box that allows you to feed in two or three sticks into the flames. This is a very thoughtful addition and allows regular feeding of the firebox with new fuel to keep up the output temperature.
Overall the eco zoom is a great tool that provides a real alternative to gas powered stoves in the camp situation. It will burn almost anything which makes it very low cost to run and is extremely robust and well built. This combination of strength, longevity and low running costs means I am sure those that come after me in the 1st Bishops Stortford and Hockerill Scout Group will be using this stove in the years to come.
Simon Carter – The Scout Association
Assistant Director – Media Relations
Group Scout Leader
April 2014