Took a wintery trip out to the foothills of mount Snowdon, Wales in December. Stayed at a log cabin lost in the woods. Theres no tracks in these woods and its well hidden, with that turf roof.
This is a tough neighbourhood even in summer, so winter is extreme. Its important to keep   core temperatures up. Fire makes things right but our cabin lacked any amenities at all except for shelter, with no fire place.
Padded in its stove bag it was a cinch to get the EcoZoom Versa up and it became the focus at once. We were a group of five, cooking the whole time using firewood. No gas, petrol or meths – the usual mountain fuels. Unlike those fuel, you wont run out anytime soon and its possible to get nice bit of heat from it, great for cold hands! Try that on a meths stove.
This is one of the wettest places in the UK – serious rising damp everywhere but adequate fire wood is easy to locate. Pick the sticks with no bark left on, aged and seasoned. Don't pick from the ground, it will be too damp. Take the suspended sticks sitting in scrub, wind dried. A small pile will last for ages on a Zoom stove but be sure to keep some back for breakfast, so you don't have to look in the morning mist.
And always keep some tea on the go, heat straight to the core. A kettle can be left on the biochar from burning up the wood. Close the door, shake the fuel down and let it be.
The Versa shown here is my own, its been well used over 3 years. It was kept lit dawn til dusk. Its working perfectly, could do with a clean up , linseed oil to the cast iron hob, but nothing loose at all, no degradation. These things are a lifetime purchase, ready in good times and back up in case other issues arise – If regular fuels are disrupted, you will still be able to cook warm food easily, on real fire and keep your spirits high.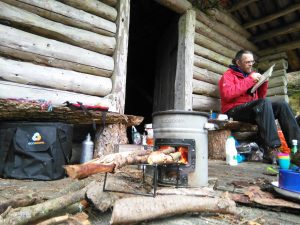 UK Winter Cooking on a Ecozoom Stove
Author: Stewart MacLachlan – EcoZoom UK